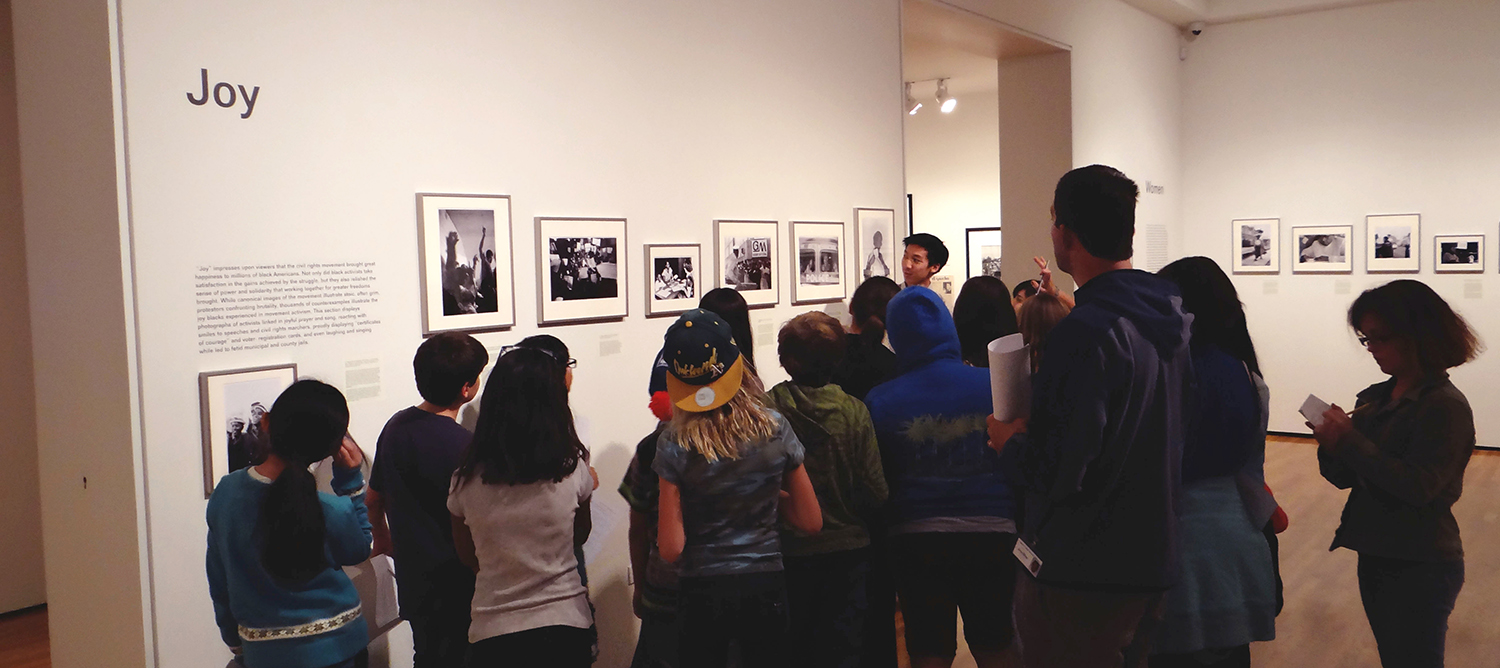 Undergraduate Internships
Internships in galleries, art museums, and architecture offices are a great possibility to gather experience of working in fields where art historians and architectural historians can find employment. The Department of the History of Art & Architecture offers five possibilities to earn units for an internship: ARTHI 192A, ARTHI 192B, ARTHI 192C, ARTHI 192D and ARTHI 192E.  Each course can be taken for 1-4 units, but you can only take a maximum 12 units total in all four courses throughout your studies at UCSB.  All internships are typically unpaid. Internships are self-organized which means that you must take the initiative with regard to the following steps:
Contact the Undergraduate Advisor to obtain the relevant internship application form (or see Undergraduate Student Forms) and to discuss which professor might be suitable as your faculty internship supervisor.
Find a suitable institution and/or firm/office for your internship. Consult with the Undergraduate Advisor if you are in doubt if a particular gallery or museum is acceptable for an internship for course credit. Discuss the specifics of the internship (e.g., working hours, duties) and have your internship supervisor sign the departmental internship application form.
Ask your faculty internship supervisor to sign the departmental internship application form.
Return the form to the Undergraduate Advisor to have it signed by the Department Chair. After that signature is obtained, you will be handed an add code.
Application forms MUST be filed in advance of the internship, latest when you start working as an intern. Internships cannot be arranged after you started working or in retrospect. To download the form for your internship, see Undergraduate Student Forms.
ARTHI 192A-B  AD&A Museum / ADC Internship
This internship is organized and administered by the Art, Design & Architecture Museum

(ARTHI 192A) or the Architecture & Design Collections

(ADC; ARTHI 192B)  at UCSB, including the requirements for both the internship and the student work. By default, the Undergraduate Faculty Advisor of our department will be the faculty internship supervisor for every student who wishes to obtain course credit for an AD&A Museum internship. Apply directly to the AD&A Museum. Once you are accepted, you will have to fill out a departmental internship application form and choose ARTHI 192A-B. This internship offers optional grading (letter grade or pass/non-pass). This course number applies only to internships organized by the Curator of Education, AD&A Museum. Students who intern with the Registrar must use course # ARTHI 192A.
ARTHI 192C  Image Resource Center Internship
An internship in the Image Resource Center (IRC) of the Department of the History of Art & Architecture aids in developing skills in the visual technologies relevant to art history and architectural history teaching and research. You will have to find a faculty internship supervisor and there is only one grading option (pass/non-pass).
ARTHI 192D  On Campus Internship
This course number covers internships for UCSB on-campus entities organized and administered outside the AD&A Museum, the ADC, and the IRC.
ARTHI 192E  Off Campus Internship
This course number covers internships in off-campus art and architecture museums, art and architecture galleries, and also architecture offices. Besides finding a suitable internship place, you will have to find a faculty internship supervisor. The internship requires that you keep a journal of your work experience, discuss the details with your faculty internship supervisor. There is only one grading option (pass/non-pass).
Internship Possibilities at UCSB
ART, DESIGN & ARCHITECTURE MUSEUM

(ARTHI 192A, Optional Grading)
Contact: Silvia Perea, silviaperea@ucsb.edu or (805) 893-5299
Intern Coordinator 2021-2022: Victoria Jennings, victoriajennings@ucsb.edu
Internships vary based on availability and student interest. Applications for the academic year are accepted in the preceding spring, and any spots that become available are filled.
ARCHITECTURE & DESIGN COLLECTIONS

(ARTHI 192B, Optional Grading)
Contact: museum-adc@ucsb.edu or (805) 893-4564
Internships are archival.
IMAGE RESOURCE CENTER (ARTHI 192C, Pass/Not Pass Only)
Contact: Jackie Spafford, spafford@hfa.ucsb.edu or (805) 893-2509
An internship in the IRC aids in developing skills in visual technologies and/or object study for research and in education. The internship may be designed with a focus in one or more of these areas:
 image technology related to research in art and architectural history
 archival work with 35mm slides and potentially materials from the Architecture and Design Collection
 object study in collaboration with the AD&A Museum and COBRAL, including object storage, handling, transfer and display.
To apply, send your resume, a list of related work experience and coursework, and a clear outline of your goals for an internship to: IRC.info@arthistory.ucsb.edu
CHEADLE CENTER FOR BIODIVERSITY & ECOLOGICAL RESTORATION (CCBER)

(ARTHI 192D, Pass/Not Pass Only)
   Contact: Katja Seltmann, seltmann@ccber.ucsb.edu or (805) 893-2401
Curatorial internships are available with the UCSB Herbarium and UCSB Invertebrate Zoology Collections. The Natural History Collections Club observes and hosts events involving the various collections at the CCBER.
INTERNSHIP IN ARCHAEOLOGICAL RECORD-KEEPING AND COLLECTIONS

(ANTH 178, Optional Grading)
Contact: Prof. Amber VanDerwarker, vanderwarker@anth.ucsb.edu
Interns serve as assistants in the department's Central Coast Information Center

or Repository for Ethnographic and Archaeological Collections

or both.
EXHIBITION STUDIES INTERNSHIP IN ART

(ART 192ES)
Contact: Prof. Kim Yasuda, yasuda@ucsb.edu
This internship provides pedagogical and practical support for students exhibiting work within the Art Building and other venues across campus such as Cheadle Hall and the University Library. Among other skills, the course will include intensive training in exhibition scheduling and curating, installation and display, the production of didactic supplements such as information sheets, wall texts and titles, methods of promotion as well as de-installation and art handling.
INDIGENOUS STUDIES INTERNSHIPS (CH ST 115N, Optional Grading)
Contact: Prof. Gerardo Aldana, gvaldana@chicst.ucsb.edu
Introduction to NAGPRA

(and campus repatriation efforts toward compliance through supporting and/or contributing to the work of the UCSB Repository of Archaeological and Ethnographic Collections

. Students learn about local indigenous community issues and allyship and acquire archival, collections, database and/or GIS experience based on interest. Internships comprise attendance at a one-hour seminar each week and flexible hours of supervised work.
Internship Possibilities in the Santa Barbara Area
*This is a selective list; there are many more galleries and museums in the Santa Barbara area. All courses taken off-campus must be taken as ARTHI 192E (Pass/Not Pass Only) if the student would like to receive units for their internship. These units count towards general degree requirements, NOT major requirements, with the exception that the units may apply to Area A of the upper-division requirements of the History of Art & Architecture major with an Emphasis in Museum Studies or Museum Studies minor
AMERICAN INSTITUTE OF ARCHITECTS, SANTA BARBARA CHAPTER (AIASB)

   Contact: Tara Rizzi, Executive Director
   229 E. Victoria St., Santa Barbara, CA 93101
   tararizzi@aiasb.com or (805) 966-4198
ARCHITECTURAL FOUNDATION OF SANTA BARBARA

   Contact: Allison Marcillac, Executive Director
   229 E. Victoria St., Santa Barbara, CA 93101
   info@afsb.org or (805) 965-6307
THE ARTS FUND

   Contact: Marcello Ricci, Program Director
   205C Santa Barbara St., Santa Barbara, CA 93101
   info@artsfundsb.org or (805) 965-7321
The Arts Fund, a Santa Barbara-based nonprofit committed to supporting artists and arts programming in our community, announces the availability of a limited number of internships. This is an opportunity for interested students (undergraduate or graduate) to learn about arts management while making a valuable contribution to the community. Internships are voluntary and unpaid and requires a quarter commitment and flexible schedule. Interns will gain experience in arts administration, gallery management, exhibit design and installation, fundraising and nonprofit administration.
CASA DEL HERRERO

   Contact: Nichole LaViola, Membership and Volunteer Coordinator
   1387 E. Valley Rd., Santa Barbara, CA 93108
   laviola@casadelherrero.com or (805) 565-5653, ext. 202
CASA DOLORES, CENTER FOR THE STUDY OF THE POPULAR ARTS IN MEXICO

   Contact: Sonia Khachikians
   1023 Bath Street, Santa Barbara, CA 93101
   casadoloressb@gmail.com or (805) 963-1032
Casa Dolores, Center for the Study of the Popular Arts of Mexico, is a nonprofit organization devoted to the collection, preservation, study, and exhibition of an extensive variety of objects of the popular arts of Mexico. Our Collections Internship is set up to assist with the ongoing inventory of the collection and ongoing or upcoming exhibitions. Interns spend most of their time on collection inventory, cataloging, tagging, labeling, and researching artifacts, but may also assist with ongoing special projects.  To apply for this internship, please submit a resume and cover letter by e-mail to casadoloressb@gmail.com.
FINE ART CONSERVATION LAB

   Contact: Gena Dillon, Office Manager
   P.O. Box 23557, Santa Barbara, CA 93121
   faclofficemanager@gmail.com or (805) 564-3438
LOTUSLAND

   Contact: Sierra Butler, Receptionist
   695 Ashley Rd., Santa Barbara, CA 93108
   sbutler@lotusland.org or (805) 969-3767, ext. 101
MUSEUM OF CONTEMPORARY ART SANTA BARBARA (MCASB)

   Contacts: Coordinator of Engagement
   653 Paseo Nuevo, Santa Barbara, CA 93101
   engagement@mcasantabarbara.org or (805) 966-5373, ext. 110
The Museum of Contemporary Art Santa Barbara (MCASB) is the largest non-profit visual arts organization of the Central Coast committed to presenting, supporting, and encouraging contemporary art. Our Community Engagement Representatives (interns) enhance the visitor experience by providing information, facilitating conversation, and encouraging meaningful engagement with the art of today. Participants in this free internship gain exposure to the behind-the-scenes duties of the Engagement department, develop and provide tours following current best practices and techniques, assist with programming and events, and begin building a creative network all while earning class credit.
THE SANTA BARBARA BOTANIC GARDEN, PRITZLAFF CONSERVATION CENTER GALLERY

   Contact: Kate Davis, Interpretation and Evaluation Coordinator
   1212 Mission Canyon Rd., Santa Barbara, CA 93105
   kdavis@sbbg.org (805) 682-4726, ext. 160
SANTA BARBARA COUNTY OFFICE OF ARTS & CULTURE

   Contact: Sarah York Rubin, Executive Director
   Santa Barbara County Courthouse, 1100 Anacapa St., Third Floor, Rotunda Tower, Santa Barbara, CA 93101
   sarah@sbac.ca.gov or (805) 568-3992
SANTA BARBARA HISTORICAL MUSEUM (Collections)

   Contact: Collections Department
   136 E. De la Guerra St., Santa Barbara, CA 93101
   collections@sbhistorical.org or (805) 966-1601, ext. 104
Gain experience in managing the museum's collections, which include prints, paintings, sculptures, textiles and other items of historical significance. Complete an inventory of objects, re-housing and arranging objects, conserving objects in archival boxes. Assist in collections registration by assigning accession numbers and object ID numbers, creating and digitizing catalog records.
SANTA BARBARA HISTORICAL MUSEUM (Education)

   Contact: Education Department
   136 E. De la Guerra St., Santa Barbara, CA 93101
   education@sbhistorical.org or (805) 966-1601, ext. 108
The first gallery (the Sala) is dedicated to works of art; the exhibit changes every 4-6 months. Assist the director of education with tours and community outreach programs; develop, implement and market school programs; work with the volunteer docents; help create scripts for tours.
SANTA BARBARA MARITIME MUSEUM

   Contact: Emily Falke, Director of Collections & Exhibits/Curator
   113 Harbor Way, Ste. 190, Santa Barbara, CA 93109
   efalke@sbmm.org or (805) 456-8745
SANTA BÁRBARA MISSION ARCHIVE-LIBRARY (SBMAL)

   Contact: Research
   2201 Laguna St., Santa Barbara, CA 93105
   research@sbmal.org
SANTA BARBARA MUSEUM OF ART

   Contact: Margot Dement, Human Resources Director
   1130 State St., Santa Barbara, CA 93101
   mdement@sbma.net or hr@sbma.net or (805) 884-6440
Internships vary, most require office or computer skills.
SANTA BARBARA MUSEUM OF NATURAL HISTORY

   Contact: Human Resources
   2559 Puesta del Sol, Santa Barbara, CA 93105
   hr@sbnature2.org or (805) 682-4711
SANTA BARBARA TRUST FOR HISTORIC PRESERVATION (SBTHP)

   Contact: Danny Tsai, Director of Programs
   123 E. Canon Perdido St., Santa Barbara, CA 93101-2215
   danny@sbthp.org  or (805) 961-5374
The SBTHP offers internships in the following areas: Museum Education, Museum Curation, Archaeology and Historic Preservation, and Development and Public Relations.
SULLIVAN GOSS - AN AMERICAN GALLERY

   Contact: Nathan Vonk
   11 E. Anapamu St., Santa Barbara, CA 93101
   nathan@sullivangoss.com or (805) 730-1460
WATERHOUSE GALLERY

   Contact: Ralph and Diane Waterhouse
   La Arcada Plaza, 1114 State Street, Suite 9, Santa Barbara, CA 93101
   art@waterhousegallery.com or (805) 962-8885
For full list of internships in the Santa Barbara, Santa Ynez/Solvang, and Los Angeles areas, view and download the Internship Opportunities flyer

.
AD&A Museum Education & Outreach Program
The AD&A Museum's Education & Outreach Program

is composed of UCSB graduate and undergraduate students who are dedicated to enriching the educational experience of students in the Santa Barbara and Goleta areas through art history. Learning about the history of art and architecture is not only a valuable way to think about cultural, political and social histories, but also provides opportunities to develop critical visual analysis skills to which many students are not introduced until college. We recognize that classrooms often operate under strict time constraints, and so in addition to offering new information and skills to students our presentations will provide novel ways for students to engage with existing state content standards and common core standards. Through visually exciting presentations and classroom activities, students will be able to explore the importance of the visual arts in history and in their daily lives, and have fun doing it!
The Education & Outreach Program Coordinator collaborates with undergraduate interns working in education at the AD&A Museum to curate the annual Kinder Art exhibition. In a non-pandemic time, this exhibition would happen in person, but due to the pandemic, they created a virtual Kinder Art exhibition. The exhibition highlights crafts made by Kindergarteners at IV Elementary School throughout the 2019-2020 academic year in response to art history lessons taught by undergraduate interns from the AD&A Museum.
For more information, contact Education & Outreach Program Coordinator Iman Salty.
---
Education Abroad Programs
Study Abroad for History of Art & Architecture Majors
The Department of History of Art & Architecture encourages its students to complete some portion of their undergraduate study through UCSB's Education Abroad Program for HAA students

. History of Art & Architecture majors can deepen their understanding of the art and culture of particular nations and regions by studying at a foreign university while adding an international dimension to their undergraduate education. Because all courses taken through EAP are accepted as UC courses, students may spend as much as a year of study at a foreign university with no loss of time completing their degrees. Honors majors have the extraordinary opportunity to use their period abroad for first-hand research on their honors thesis projects.
Find additional information at UCSB Education Abroad Program

.