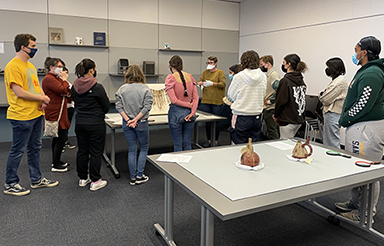 We offer a Major and a Minor in the History of Art & Architecture. Our faculty of international distinction teach courses in European, American, Asian, and African art as well as the history of architecture, urbanism, visual culture, globalization, empire, and theory. Our program is organized such that students may choose from fourteen introductory survey courses, over a hundred upper-division lecture courses on more specialized topics, and research-oriented undergraduate seminars that encourage writing and project-based learning. The department offers a challenging and rewarding Department Honors Program that, completed successfully, results in a "Distinction in History of Art and Architecture" on the graduating transcript.
We also have an Undergraduate Emphasis in Architecture & Environment and an Undergraduate Emphasis in Museum Studies. The Faculty Undergraduate Advisor and the department's Undergraduate Advisor, along with the faculty, are pleased to offer academic guidance to all majors and interested students. In addition to their coursework, undergraduate students in History of Art & Architecture are encouraged to seek internships in the Santa Barbara area and participate in the Education Abroad Program.
We are proud to have a first-rate Library

, an excellent Image Resource Center, the impressive Architecture & Design Collection

, and the Art, Design & Architecture Museum

that produces exhibitions on a wide range of artists, architects, periods, and themes. In conjunction with their courses, faculty frequently organize trips to museums, galleries, and architectural sites in southern California and the Los Angeles area.
For more information about undergraduate studies in History of Art & Architecture at UC Santa Barbara, please contact the Undergraduate Advisor, arthistory-ug-arthi@ucsb.edu

. We invite you to make an appointment to visit our campus in person. For information on undergraduate admissions, costs, and funding opportunities, visit UCSB Admissions

.