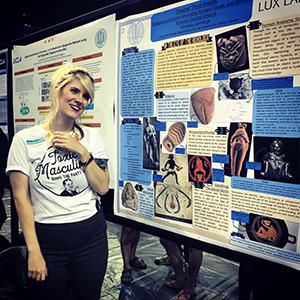 Specialization
:
Areas of Concentration: Ancient Greek and Roman artwork, depictions of female genitalia, ancient cults, mythology and deities
Faculty Advisor: Claudia Moser
Bio
:
Victoria Jennings is a first year M.A./Ph.D. student in the History of Art and Architecture department with an interest in Ancient Greek and Roman depictions of female genitalia. Utilizing a hybrid of art history and anthropological views, she works towards the understanding of how ancient viewers saw and interpreted such artwork, be it erotic, religious, or even humorous. Her master's thesis will take a deeper dive into the subject to find further examples and explore their importance to ancient history. Victoria is a current recipient of the Margaret Mallory Fellowship and has previously received the Eugene Wurzel Award for Scholastic Excellence. She holds a B.A. from the University of California, Los Angeles where she graduated Magna Cum Laude with Departmental Highest Honors for completing a honors thesis under the guidance of Dr. Sharon Gerstel. While at UCLA, she worked at both the Fowler Museum at UCLA in the Education Department and the Design Media Arts Department, volunteered in the Decorative Arts and Sculpture Conservation Lab at the Getty Museum, participated in UCLA Undergraduate Research Week, and held an internship at a private conservation studio in Hollywood. She has also lived, worked, and studied for extended periods in Florence and Milan.