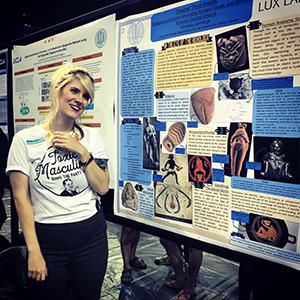 She/Her/Hers
Graduate Student
Specialization
:
Areas of Concentration: Ancient Greek and Roman artwork, ancient cults, mythology, witchcraft, magic, tattooing, human remains in museums, NAGPRA and museum practices
Faculty Advisor: Claudia Moser
M.A. Thesis: "I Sing the Body Magical: Baubo and Her Apotropaic Power," completed 2020
Bio
:
Victoria Jennings is a Ph.D. student in History of Art & Architecture and the current Murray Roman Curatorial Fellow and Internship Program Coordinator with the Art, Design, & Architecture Museum on campus. Her primary focus is on Ancient Greek and Roman artwork where she works with subjects of magic, witchcraft, mythology, female representation, and ancient cults. Currently her research is devoted to museum practices of housing and displaying human remains (bog bodies, mummies, skeletal, and tattooed tissue) along with NAGPRA related issues.
Victoria is a current recipient of the Margaret Mallory Fellowship and has previously received the Eugene Wurzel Award for Scholastic Excellence. She holds a M.A. (UCSB 2020) done under the guidance of Claudia Moser and a committee that included Alicia Boswell (HAA, UCSB) and Elizabeth DePalma Digeser (History, UCSB). She holds a B.A. (UCLA 2017) done along with the completion of an honors thesis under the guidance of Sharon Gerstel (Art History, UCLA). She has worked at both the Fowler Museum at UCLA and UCLA's Design Media Arts Department, volunteered in the Decorative Arts and Sculpture Conservation Lab at the Getty Museum, participated in UCLA's Undergraduate Research Week, and held internships at private conservation studios in Hollywood. She has also lived, worked, and studied for extended periods in Florence and Milan.