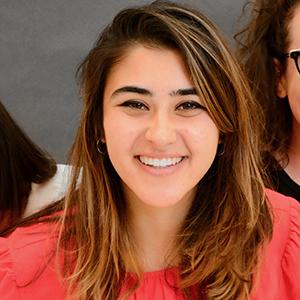 She/Her/Hers
Graduate Student
Specialization
:
Areas of Concentration: 20th Century German Art and Visual Culture; Weimar Republic and Interwar Avant-Gardes; Cold War-Era Performance Art in Central and Eastern Europe; Histories and Theories of Mass Media, Materiality, Performance, and Photography
Faculty Advisor: Laurie Monahan
Committee Members: Laurie Monahan, Sven Spieker (Germanic and Slavic Studies, UCSB), Patrice Petro (Film and Media Studies, UCSB)
M.A. Thesis: "Deconstructing the War Monument, Redefining the War Hero: Antimilitarism in Berlin Dada, 1920" (The Courtauld Institute of Art, completed 2018)
Bio
:
Iman Salty is a Ph.D. student in the History of Art and Architecture Department at the University of California, Santa Barbara. Iman's research interests range from early 20th Century German art and visual culture of the Weimar Republic to Cold War-era performance art in Central and Eastern Europe. She is interested in theories of performance, photography, reproduction, materiality, and mass media. Currently, Iman's research focuses on "worker-photography" movements of the Weimar Republic, and examines its engagements with the artistic avant-garde.
Iman is also a Co-Managing Editor of react/review: a responsive journal for art & architecture, and has served as an editor for the journal for the previous two years. Prior to enrolling at UCSB, she was a Curatorial Assistant at the Palm Springs Art Museum. Iman received her M.A. in History of Art with distinction from the Courtauld Institute of Art under the advisement of Dr. Robin Schuldenfrei, and her B.A. in Art History from Scripps College.