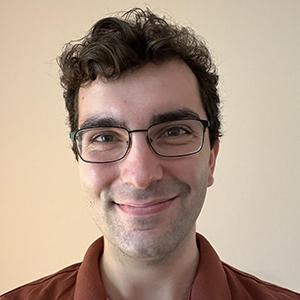 Specialization
:
Areas of Concentration: Seventeenth-century Dutch art; early modern print culture
Faculty Advisor: Ann Jensen Adams
Committee Members: Mark Meadow, María Lumberas
Dissertation: "Common Ground: Landscape and the Mediation of Technology in the Dutch Republic"
M.A. Thesis: "'The Town Hall Speaks': The Old Town Hall in Rembrandt's Amsterdam" (Queen's University, Kingston, Ontario, Canada, completed 2018)
Education
:
Alec Aldrich is a fifth-year Ph.D. candidate at the University of California, Santa Barbara, and a Kress Institutional Fellow at Leiden University for 2023-2025. He is writing his dissertation on the intersection of seventeenth-century Dutch landscape images with the visual culture of engineering. His other research interests include early-modern print culture, the history of drawing, and travel culture. He likewise has a sub-specialization in the art and visual culture of British India in the eighteenth and nineteenth centuries. Before his time at UCSB, he received an A.B. in art history with honors from Vassar College in 2015, and an M.A. in art history from Queen's University in Kingston, Ontario, in 2018. In addition to his academic trajectory, Alec has held numerous curatorial positions in American museums including the Metropolitan Museum of Art in New York, the National Gallery of Art in Washington, D.C., and most recently the J. Paul Getty Museum in Los Angeles.