Event Date:
Friday, January 31, 2020 -

2:00pm

to

4:00pm
[click for Colloquium flyer 

]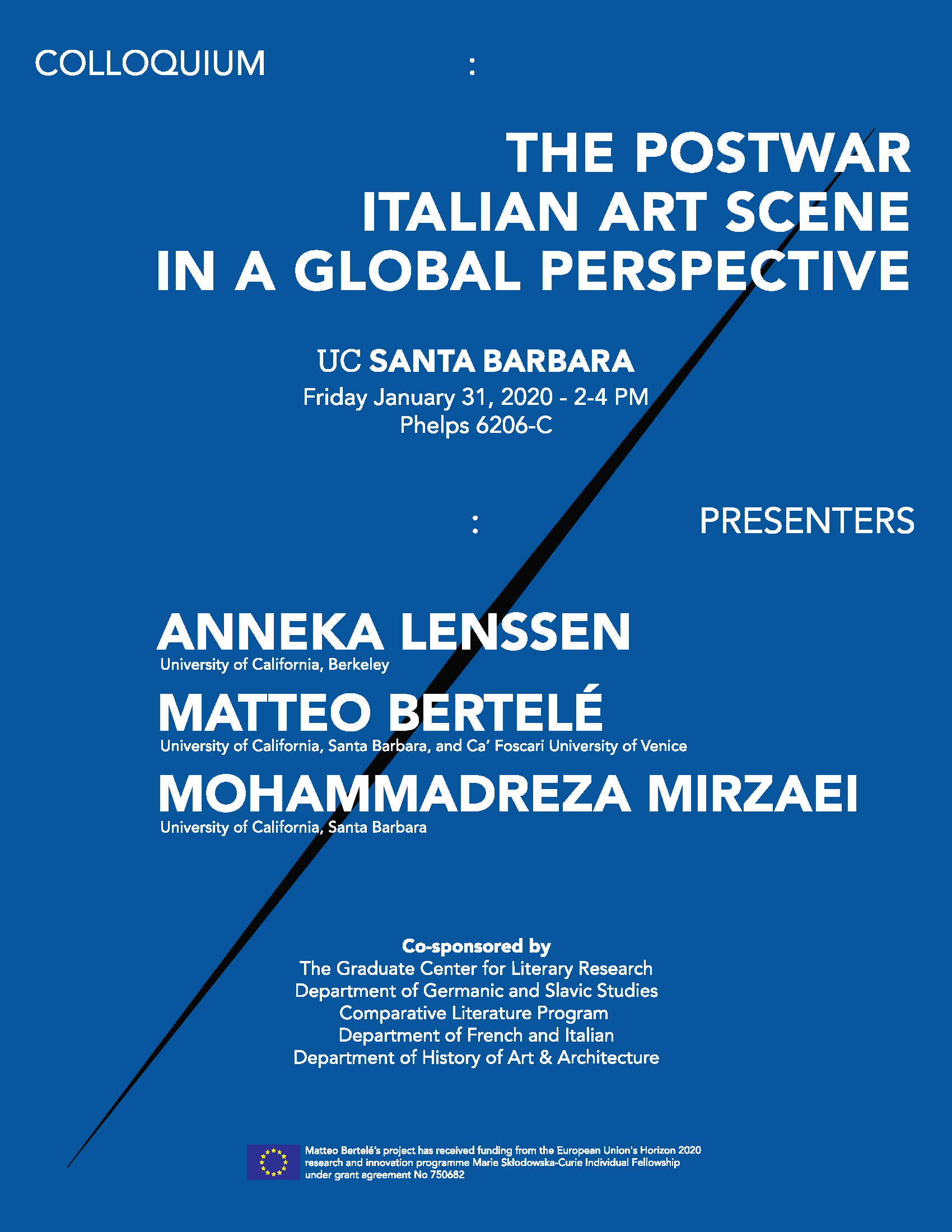 In this event, Dr. Anneka Lenssen, Dr. Matteo Bertelé, and Mohammadreza Mirzaei will discuss the role of the Italian art scene and its effects in the Cold War art world(s). Through three different research projects, Lenssen, Bertelé, and Mirzaei will question how co-constituted styles and initiatives were formed in dialogue with postwar Italian art in specific locations (USSR, Iran, Syria, German Republics) from 1945-1970. Further, they will explore what may have been the relation of these affairs to the hegemonic American art of the time. The role of specific artists and critics, the Italian academy and its educators, art exhibitions, and institutions will be considered and discussed.
Biographies:
Anneka Lenssen
Anneka Lenssen is an Assistant Professor of Global Modern Art at UC Berkeley. She specializes in modern painting and contemporary visual practices, with a focus on the cultural politics of the Middle East. Her current book project, Beautiful Agitation: Modern Painting and Politics in Syria (UC Press, forthcoming 2020), is a study of avant-garde painting and the making of Syria as a contested territory, 1900 to 1965. Lenssen has published articles in Afterall, ARTMargins, Muqarnas, Representations, and Third Text, and contributed essays and reviews to Artforum, Bidoun, and Springerin, as well as exhibition catalogs for Darat al-Funun in Amman, Haus der Kunst in Munich, and the Sharjah Biennial.
Matteo Bertelé
Matteo Bertelé is Marie Curie Global Fellow at the University of California Santa Barbara, Universität Hamburg and Ca' Foscari University of Venice with the project "GYSIART – A cultural history of compared art practices and receptions in Cold War Europe (1945-1991)". He is currently a project researcher within the project "Experiment and Experience in East German Art" at the Getty Research Institute in Los Angeles. His most recent edited and co-edited books include Russian Artists at the Venice Biennale 1895-2013 (2013); ZKK Rereading: La nuova arte sovietica: una prospettiva non ufficiale (2014) and conference proceedings on Yuri Lotman (2015) and Pavel Florensky (2015). His research projects and interests deal with exhibition studies, Soviet and socialist visual culture, and the cultural dimension of the Cold War.
Mohammadreza Mirzaei
Mohammadreza Mirzaei is a third-year Ph.D. student in the History of Art and Architecture at UC Santa Barbara. Mirzaei is a co-editor of Herfeh: Honarmand's issue no. 51, dedicated to Italian photography and the translator of Stefano Benni's Grammatica di Dio, from Italian into Persian (Herfeh: Honarmand Publications, 2014). As an art writer, Mirzaei's writing is published in different magazines, including Herfeh: Honarmand, Kaarnamaa, and Tandis. His current research deals with the adoption of modernism in Iranian art and the relations between the postwar Italian and Iranian art.
January 24, 2020 - 4:01pm