Event Date:
Thursday, January 16, 2020 -

5:00pm

to

6:30pm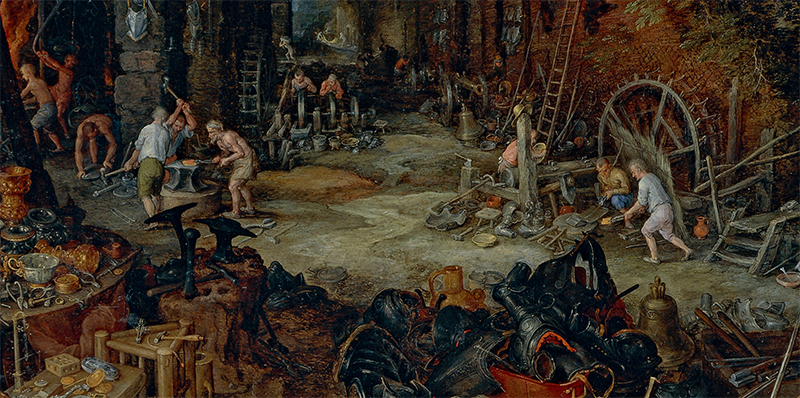 Jan Brueghel the Elder, Allegory of Fire (detail), 1608, oil/copper, Biblioteca Ambrosiana, inv. #68
Making and Matter in a Sixteenth-Century Workshop
Pamela H. Smith (Columbia University)
This lecture examines the intriguing late sixteenth-century anonymous manuscript, Ms. Fr. 640 (now held by the Bibliothèque nationale de France) that has been researched since 2014 by the Making and Knowing Project. The technical and artistic "recipes" contained in Ms. Fr. 640 provide an opportunity to explore the meanings and conceptualization of making and materials in the sixteenth century. Ms. Fr. 640 provides important insights into the material, technical, and intellectual world of the late sixteenth century, and brings a better understanding of how and why nature was investigated, used in art, and collected and appreciated in early modern Europe. It sheds light on the type of knowledge possessed by handworkers, today often called "how-to," and, more broadly, on how the work of making was related to knowing.
Professor Pamela H. Smith founded the Making and Knowing Project at Columbia University in 2014.  She is Seth Low Professor of History at Columbia University and Founding Director of the Center for Science and Society at Columbia.  At Columbia, she teaches history of early modern Europe and the history of science.  She is the author of The Business of Alchemy: Science and Culture in the Holy Roman Empire (Princeton 1994; 1995 Pfizer Prize), and The Body of the Artisan: Art and Experience in the Scientific Revolution (Chicago 2004; 2005 Leo Gershoy Prize).  Her current research focuses on attitudes to nature in early modern Europe and the Scientific Revolution, with particular attention to craft knowledge and historical techniques.
November 15, 2019 - 2:56pm