Event Date:
Thursday, November 14, 2019 -

4:30pm

to

6:00pm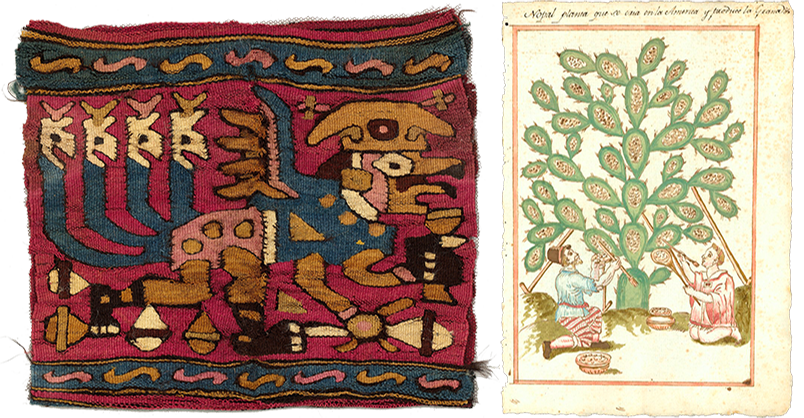 left: Tapestry-woven Coca Bag, Peru; Moche, 5th -6th c., cotton, camelid hair, Metropolitan Museum of Art, (1994.35.88);
right: Reports on the History, Organization and Status of Various Catholic Diosceses of New Spain and Peru (1620-49),   
Newberry Library, Chicago, Vault Ayer MS 1106 D8 Box 1 Folder 15
Global Red: Cochineal, textiles and materials of trade between the 16th-18th centuries
Elena Phipps (Metropolitan Museum of Art & UCLA)
The second talk in the 2019-20 History of Art & Architecture Lecture Series – this year about "Making" – explores the era of global trade of the 16th century that was fueled by the widening desire for gold, silver, spices and other precious materials such as colorants. Red color, and specifically cochineal red from the insect that thrived on a species of cactus in Mexico and South America was packed into leather sacs that filled the holds of the Spanish fleets intended for the ports of Europe, Asia and the Indian Ocean. Highly prized, cochineal red found its way around the world in many forms including the raw dyestuff, that served as a basis for a burgeoning global textile industry, as well as red woolen cloth—known as tradecloth—used to barter and exchange for diplomacy and commerce.
This talk will examine the making and use of red colorants in textiles and specifically the presence of cochineal, tracing its pathways throughout the world.
Download the event flyer here

October 16, 2019 - 2:23pm