Event Date:
Thursday, February 1, 2018 -

5:30pm

to

7:00pm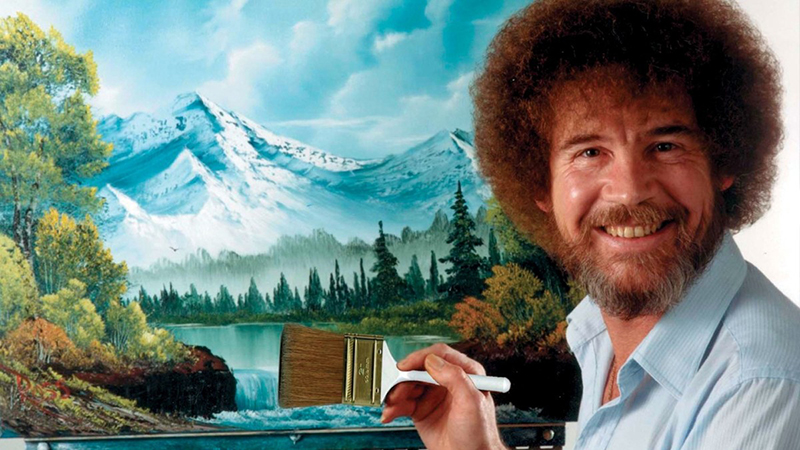 Happy Accidents
Suzanne Hudson
(University of Southern California)
This talk focuses on Bob Ross, the public television impresario of The Joy of Painting
, an internationally syndicated program begun in 1983 that spawned a cottage industry of how-to books, videos, and licensed Bob Ross art supplies. Ross is best known for instructing audiences of amateurs in how to complete an oil on canvas original, otherwise unaided, at home. In his half-hour long programs, he conjured, through the expedient technique of painting wet on wet, a sylvan retreat or mountain pass, thus demystifying the process of creation while encouraging a comparable instantiation of subjectivity on the part of his viewers — most of whom remained precisely that, with few actually taking up the brush. Nevertheless, his distinctly and cannily American can-do rhetoric places a premium on the felicities of what I might call the aesthetic solecism, which Ross recuperated to salutary effect in an attempt to avoid pretensions to mastery even as he traded on his own fluency and expertise. In this talk I argue that the lesson was not the communication of the skills to execute the painting itself, but the virtue of the staging and witnessing of making as a cultural good. Thus, I also address a longer history of non-artists making art in America: a history that suggests--as Ross understood--art's utility may be predicated upon its therapeutic basis.
Suzanne Hudson is currently Associate Professor of Art History and Fine Arts at the University of Southern California, where she also serves as the Director of Graduate Studies for Art History. She is an art historian and critic who writes on modern and contemporary art, with an emphasis on abstraction, painting, process, creativity, pedagogy, and American philosophy as it intersects with aesthetics and institutional discourses. She is co-founder of the Contemporary Art Think Tank and the Society of Contemporary Art Historians, an affiliate society of the College Art Association, for which she currently serves as President Emerita and Chair of the Executive Committee.
The Senses: In the HAA 2017-2018 Lecture Series, each of our 5 speakers will engage with a different sense and explore material or artistic evidence for the sense they discuss. This second talk in the series will consider "touch."
January 17, 2018 - 11:20am