Event Date:
Friday, October 20, 2017 -

3:00pm

to

7:00pm
Event Location:
McCune Conference Room
Interdisciplinary Humanities Center
HSSB 6020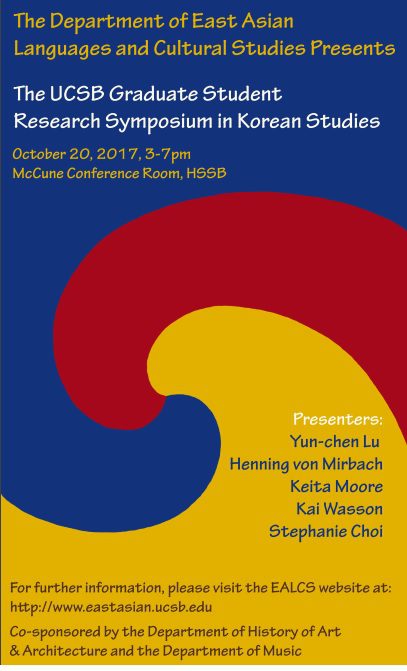 The Department of East Asian Languages and Cultural Studies will host the UCSB Graduate Student Research Symposium in Korean Studies. The symposium include five presentations on topics related to Korea by graduate students from three departments. Each presentation will be followed by discussion. Refreshments will be served!
Program:
"'Writing Orchid' of Kim Jeonghui (1786-1856): Inspiration and Transformation from Yangzhou," Yunchen Lu, History of Art & Architecture
"The Continued Popularity of Zhe-School Style Painting in Korea during the Seventeenth Century: Kim Myeongguk (ca. 1600-after 1662) and the Assertion of Legitimate Royal Rule," Henning von Mirbach, History of Art & Architecture
BREAK
"The Residue of History: Nationhoods of Post-Authoritarian Korean War Film," Keita Moore, EALCS
"Comfort Women Nationalism: The Persistence of 'Nation' in a Transnational Redress Movement," Kai Wasson, EALCS
"Idol Singers' Intimate Labor in the Global Circulation of K-pop," Stephanie Choi, Music
Cosponsored by the Department of the History of Art & Architecture and the Department of Music.
October 17, 2017 - 12:17pm