Event Date:
Wednesday, November 2, 2016 - 4:00pm
Event Contact:
Sponsored by the Department of East Asian Languages and Cultural Studies, the Department of History, the Department of History of Art and Architecture, the Department of Economics, the Department of Global Studies, the East Asia Center, and the IHC's Reinventing Japan Research Focus Group.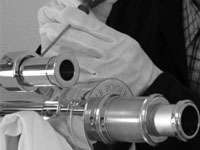 The Shogun's Silver Telescope: God, Art & Money in the First English Voyages to Japan,1611-23
Timon Screech (University of London)
The English East India Company was founded in 1600 as a spice-importing organization. In 1611, it sent a ship to Japan, which arrived in 1613. This talk will investigate the purpose of that voyage, since at that time Japan produced no spices. Portuguese missionaries and Dutch traders were active in Japan, and the English sought ways to present themselves to the Japanese in order foster a competitive advantage. These issues will be analyzed via the object presented to Tokugawa Ieyasu (the founding shogun of the Edo period [1600-1867]) in the name of King James I: a silver telescope.
Timon Screech is Professor of Japanese Art at SOAS (School of Oriental and African Studies), University of London. He is Head of the Department of the History of Art & Archaeology, and Head of the School of Arts, SOAS.
Click here for the talk flyer

.
October 24, 2016 - 9:45am