Event Date:
Friday, April 22, 2016 -

9:00am

to

5:00pm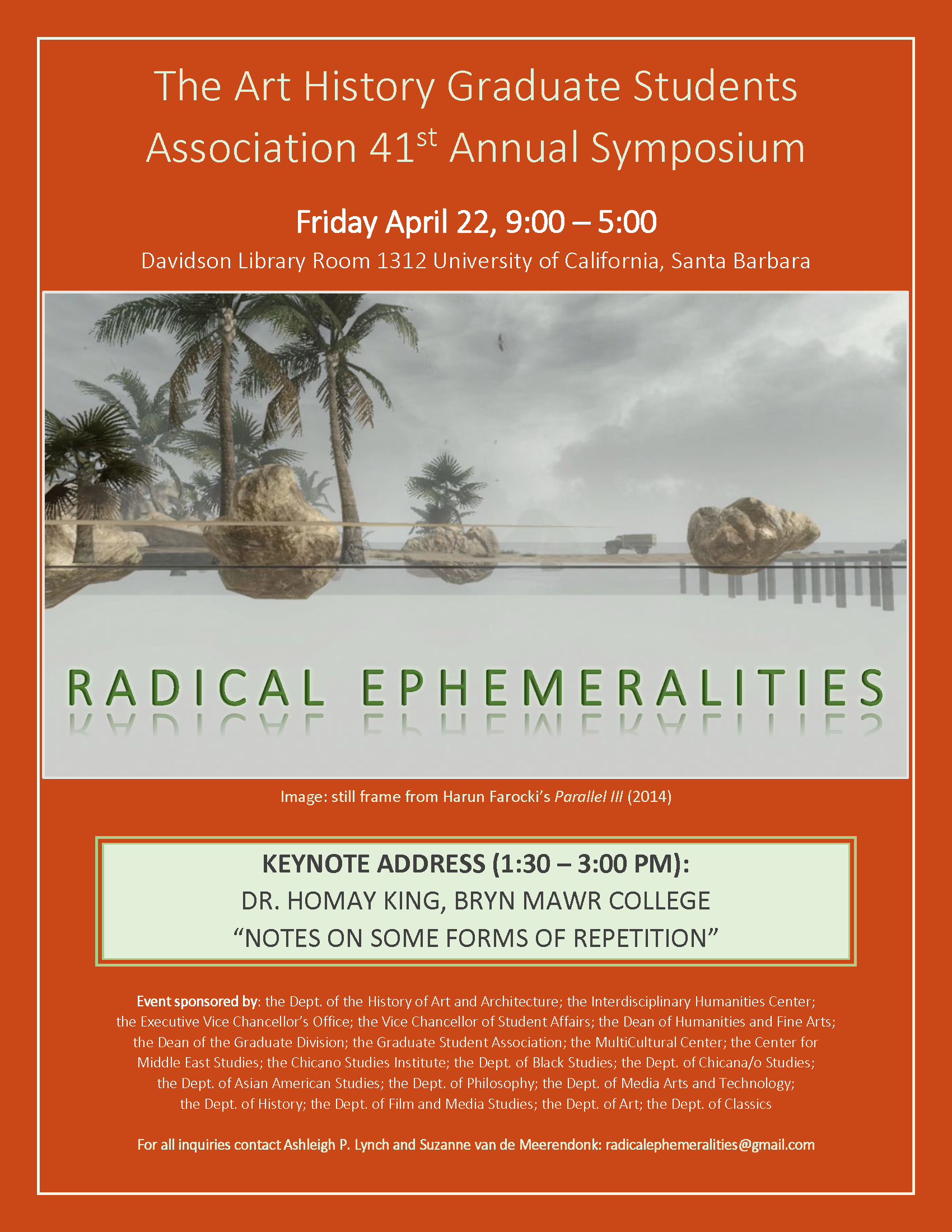 The 41st annual symposium of the Art History Graduate Student Association (AHGSA) will take place on April 22nd on the topic of "Radical Ephemeralities." The conference will examine concepts related to loss and recuperation across varying time periods and disciplines, with particular emphasis on ephemerality as a site of contestation against dominant cultures and privileged material forms. The keynote address for this year's symposium will be delivered by Dr. Homay King, Professor of History of Art at Bryn Mawr College and editor of the journal Camera Obscura, and the keynote response will be given by Dr. Jenni Sorkin, UCSB, History of Art and Architecture. This year's event is co-organized by HAA graduate students Ashleigh P. Lynch and Suzanne van de Meerendonk, and will feature, among other presenters, a presentation by HAA graduate student J.V. Decemvirale.
The conference aims to facilitate an interdisciplinary discussion on the various ways in which ephemeral media and phenomena may be analyzed within different historical, cultural and political contexts. Topics addressed by speakers range from the methodological challenges posed by the recovery of relatively ephemeral traces produced by subordinate groups in the Ancient Assyrian Empire, to analyses of critical interventions in contemporary urban spaces. We very much look forward to welcoming both national and international graduate contributors to our campus for what looks to be a stimulating conversation.
For more information about the symposium, please see the program

. For directions to the venue (located 1st Floor Mountain Side, adjacent to the Learning Commons), see the Library Map

.
Cosponsored by the the Department of the History of Art and Architecture, the Interdisciplinary Humanities Center, the Executive Vice Chancellor's Office, the Vice Chancellor of Student Affairs, the Dean of Humanities and Fine Arts, the Dean of the Graduate Division, the Graduate Student Association, the MultiCultural Center, the Center for Middle East Studies, the Chicano Studies Institute, the Department of Black Studies, the Department of Chicana/o Studies, the Department of Asian American Studies, the Department of Philosophy, the Department of Media Arts and Technology, the Department of History, the Department of Film and Media Studies, the Department of Art, and the Department of Classics.
March 22, 2016 - 12:32pm