Event Date:
Thursday, April 7, 2022 -

4:00pm

to

5:30pm
Event Price:
Free and open to the public
Event Contact:
Registration is required to receive the Zoom link; click here to register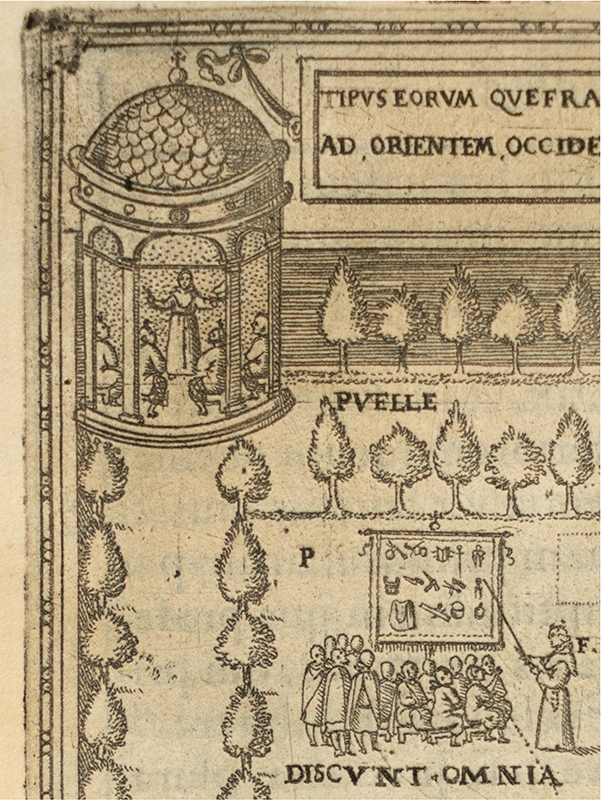 Diego Valadés, Detail of the Ideal Mission Church from the Rhetorica Christiana (Perugia: 1579), etching.
Foul biting, or Diego Valadés and the Medium of Print
Stephanie Porras (Tulane University)
In 1579, while representing the Franciscan Order in Rome, Diego Valadés published the Rhetorica Christiana. Although indebted to earlier rhetorical treatises, the Rhetorica Christiana also uniquely draws upon Valadés' own experience as a missionary in New Spain. The volume contains an unusual number of illustrations – 27 prints – depicting mnemonic alphabets and instruments of memory, evangelization efforts in New Spain, as well as pre-Hispanic customs. Two scholarly assumptions have undergirded previous studies of the Rhetorica: that Valadés was mestizo (that is, of mixed indigenous and European parentage) and that the prints are engraved. Yet, Valadés likely left Spain as a child and many of the prints are etched and signed ("fecit") by the author himself. Reassessing the facture and ambition of the Rhetorica's prints, this talk explores the epistemological and ontological operations of print in mediating transatlantic experience and the emerging fiction of ethnographic distance.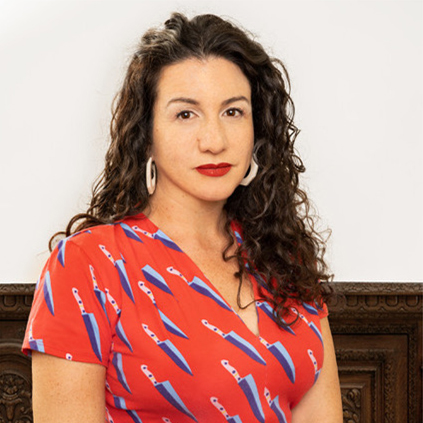 Stephanie Porras is Associate Professor of Art History and chair of the Newcomb Art Department at Tulane University in New Orleans. She specializes in the visual and material culture of Northern Europe and the Spanish world, from the fifteenth to the seventeenth centuries. Porras is the author of Pieter Bruegel's Historical Imagination (Pennsylvania State University Press, 2016) and Art of the Northern Renaissance (Laurence King, 2018).  Her forthcoming book project, The First Viral Images: Maerten de Vos, Antwerp print and the early modern globe traces the complex production and reception histories of an illustrated book, a painting and an engraving, all made in Antwerp in the late sixteenth century, but copied by Venetian print publishers, Spanish and Latin American painters, Mugal miniaturists and by Filipino ivory carvers. Analyzing the social networks and infrastructures that undergirded these artworks' mobility, she argues for a reassessment of creative labor and art's role in early modern globalization. Some of this work has appeared in journal articles for the Nederlands Kunsthistorisches Jaarboek, Colonial Latin American Review and Artl@s. Stephanie is also Reviews Editor of the Art Bulletin.
Underground Knowledge: Underground Knowledge is a broad take on artistic practices that invite us to reflect on subaltern forms of making and knowing, especially those of underrepresented communities, objects, or contexts. We don't expect "underground" to mean exclusively counter cultural, but hope it can be expanded in any of the literal and non-literal ways the term invites.
Save the dates for these upcoming virtual lectures (unless specified, lectures take place 4:00 - 5:30 PM):
Thursday, April 28:

Pamela Karimi

(UMass Dartmouth), "Desert Detours: Contemporary Iranian Art & Critical Engagement with Remote Sites"
Thursday, May 12:

Carolyn Dean

(UC Santa Cruz), Topic TBA
March 15, 2022 - 2:45pm