Event Date:
Thursday, January 27, 2022 -

4:00pm

to

5:30pm
Event Price:
Free and open to the public
Event Contact:
Registration is required to receive the Zoom link; click here to register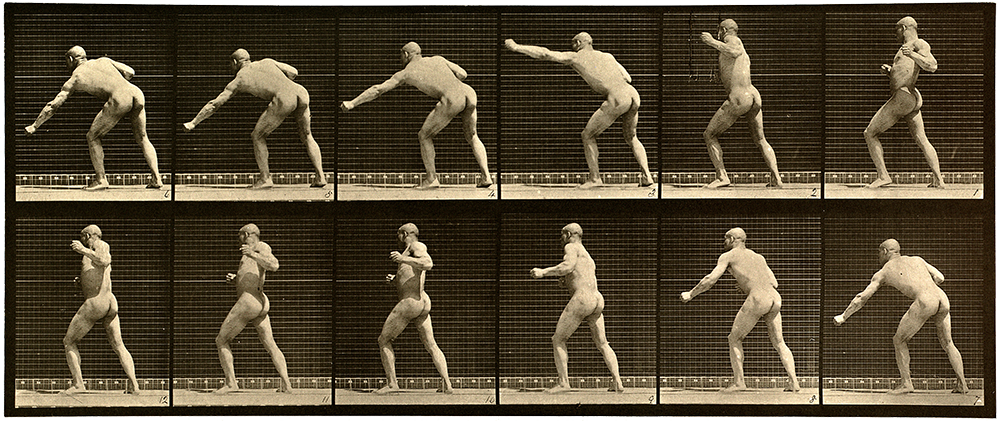 Eadweard Muybridge, Striking a blow with the left hand, 1885. Collotype print. Animal Locomotion, plate 343, 1887, Boston Public Library.
Boxing in the Frame: Eadweard Muybridge and the Force of Blackness
Jordana Moore Saggese (University of Maryland, College Park)
This lecture—drawn on material from Saggese's forthcoming book, Game On: Boxing, Race, and Black Masculinity—will look closely at the photographs taken by Eadweard Muybridge of the mixed-race boxer Ben Bailey in 1885 as a historically situated racial project wherein the social categorization of Blacks played out. Saggese argues that these pictures of Bailey must be read within the larger context of nineteenth-century photography, in which the bourgeois classes were excessively preoccupied with the classification of difference and looked to the medium, with its strong associations of "truth," for evidence to support a general drive to regulate, even criminalize, the presence of an unwanted underclass in the new urban environment. Of particular interest is the introduction of the anthropometric grid in these photographs, which uniquely pathologizes Bailey. Saggese will further explore the ways in which these photographs were instrumental in giving visual form to these fantasies (and fears) about Black bodies in the public sphere, looking both to fine art and vernacular photography for comparative treatments of the Black body as both a scientific and an aesthetic object.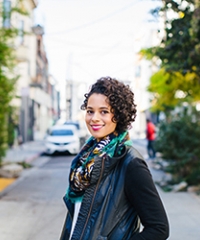 Jordana Moore Saggese is an Associate Professor of American Art at the University of Maryland, College Park and the former Editor-in-Chief of the College Art Association's Art Journal. Trained as an art historian, Saggese's work focuses on modern and contemporary American art with an emphasis on the critical expressions of Blackness. She is an internationally recognized expert on the work of the American painter Jean-Michel Basquiat (1960-88), and has published two books on the artist: Reading Basquiat: Exploring Ambivalence in American Art (University of California Press, 2014) and The Jean-Michel Basquiat Reader: Writings, Interviews, and Critical Responses (University of California Press, 2014). Saggese's current book project Game On: Boxing, Race, and Black Masculinity (forthcoming, Duke University Press) maps the visual terrain of racial ideology in the United States, paying particular attention to the intersecting discourses of blackness, masculinity, and sport in the late nineteenth century. This new research has been supported by an Alisa Mellon Bruce Senior Visiting Fellowship at Center for Advanced Study in the Visual Arts (CASVA), National Gallery of Art, Washington, D.C. and by the University of Maryland's Independent Scholarship, Research, and Creativity Awards (ISRCA).
Underground Knowledge: Underground Knowledge is a broad take on artistic practices that invite us to reflect on subaltern forms of making and knowing, especially those of underrepresented communities, objects, or contexts. We don't expect "underground" to mean exclusively counter cultural, but hope it can be expanded in any of the literal and non-literal ways the term invites.
Click here to download the lecture flyer

and save the dates for these upcoming virtual lectures (unless specified, lectures take place 4:00 - 5:30 PM):
Thursday, March 3: Julie A. Harris (

Independent Scholar

), Topic TBA
Thursday, April 7:

Stephanie Porras

(Tulane University), Topic TBA
Thursday, April 28:

Pamela Karimi

(UMass Dartmouth), Topic TBA
Thursday, May 12:

Carolyn Dean

(UC Santa Cruz), Topic TBA
January 4, 2022 - 12:48pm