Sammy Lee Seminar: Signatures and Inscriptions of the Song Literati
Friday, November 1, 2019
2:00 PM - 4:00 PM
Bunche Hall 10383, UCLA
When Su Shi's (1037–1101) attributed painting Old Tree, Rock, and Bamboo emerged into the public eye last year after decades of being hidden from sight it attracted a torrent of renewed scrutiny. Predictably, much attention landed on the scroll's seals and inscriptions, as scholars attempted to resolve questions of authenticity, authorship, and provenance. Somewhat lost in the debate was the opportunity the scroll provides to consider the broader and more intriguing issue of inscriptive practices among the Song literati. In the field of literary studies, tiba 題跋, "inscriptions," have recently gained interest as a genre, but regarding them only as texts decidedly limits our perspective on how tiba functioned as integral elements within a system of communication that was centered on the visual and material. Our working premise is that recognition of the self-expressive capabilities of the visual extended to the markings eleventh century literati artists and their audiences added to the primary image. Beginning with Old Tree, Rock, and Bamboo before moving on to other examples of painting and calligraphy by literati artists active in the late Northern Song, we will examine closely the roles signatures, seals, and inscriptions played in the dialogue between maker and viewer.
Suggested Reading
Sturman, Peter C. "Su Shi Renders No Emotion," The Journal of Chinese Literature and Culture 6:1 (April 2019), 15-55. Download file: Sturman-Su-Shi-Renders-No-Emotion-1c-gj1.pdf

---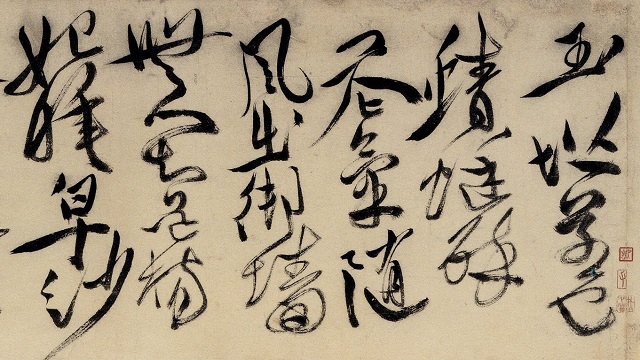 32nd Annual Sammy Yukuan Lee Lecture: Xu Wei's Calligraphy in Jail
Saturday, November 2, 2019
2:00 PM - 3:30 PM
Harry and Yvonne Lenart Auditorium
Fowler Museum, UCLA
Xu Wei (1521–1593) occupies a unique place in Chinese art history. An avant-garde artist recognized for paintings that took the medium of brush-and-ink to wild extremes flirting with pure abstraction, he was arguably even more masterful in calligraphy, capable of writing in a range of styles that display a ceaselessly inventive mind. Xu Wei was a scholar, a master prose writer, a poet of startling originality, a playwright. Xu was an all-around man of talent who largely relied on his literary and artistic skills to survive in a world where talent was a valued commodity. But Xu Wei was also prone to fits of mental instability, and in 1566 he was jailed for murdering his wife. For seven years Xu Wei remained incarcerated before finally being released in a general amnesty. Strangely, it is largely assumed that it was during Xu's period in jail, which coordinate with his middle years, that his artistic talents blossomed. But what kind of environment did a sixteenth-century Chinese gaol provide? How is it that Xu not only was unbroken by his jailtime experience but, to the contrary, was reticent to leave when freedom finally was offered. This presentation will recount what we know about the events that led to Xu's incarceration and his experiences in order to put into context some of his surviving works of calligraphy and offer insights into this unique artist's creativity in confinement.
RSVP Recommended. Reception to follow. Click here to RSVP
.
About Sammy Yukuan Lee Lecture Series: First presented in 1982 in celebration of his 80th birthday, the Sammy Yukuan Lee Lectures on Chinese Art and Archaeology honors the life and philanthropy of respected businessman, art collector, and Chinese art authority, Sammy Yukuan Lee. This series is presented annually by the UCLA Center for Chinese Studies with support from the Sammy Yukuan Lee Foundation, and in partnership with the Fowler Museum at UCLA.
Sponsor: Center for Chinese Studies
.
October 22, 2019 - 1:26pm