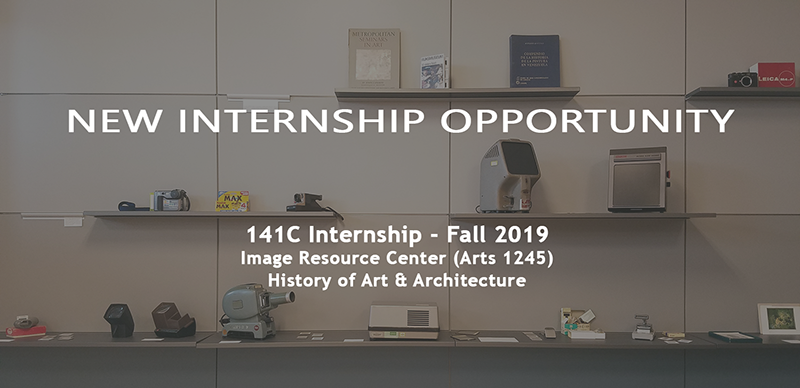 141C Internship - Image Resource Center
3 units (9 hours/week for 10 weeks)
Grading: pass/non-pass
This undergraduate internship is intended for a third or fourth year student who is a major (or minor) in the History of Art and Architecture and who is interested in developing professional skills related to visual resources, image management, and image research.
Under the supervision of the Curator and Assistant Curator of the Image Resource Center, the intern will have the unique opportunity to develop core competencies associated with the production and management of digital image collections. Interns will become familiar with best practices related to collection description, image processing and digitization, cataloguing standards, controlled vocabularies, online databases, image repositories, and issues surrounding intellectual property.  In addition to hands-on training and work, the intern will have some assigned related readings, and 2-3 short writing assignments.
Responsibilities will include:
Cleaning and care of 35mm slides
Digitizing of 35mm slides and photographic prints
Post-processing of digitized images
Assessment of slide collections
Collection description and item level cataloguing
Management and cataloguing of image assets using JSTOR Forum
Note that the internship may extend for a second quarter.
May be petitioned for credit toward the Museum Studies Emphasis/Minor.
Please forward an outline of your interest, skills and experience (attach a resume if possible) and send to:
Jackie Spafford
Image Resources Curator
spafford@ucsb.edu
Deadline for applications: September 19, 2019
September 3, 2019 - 4:10pm