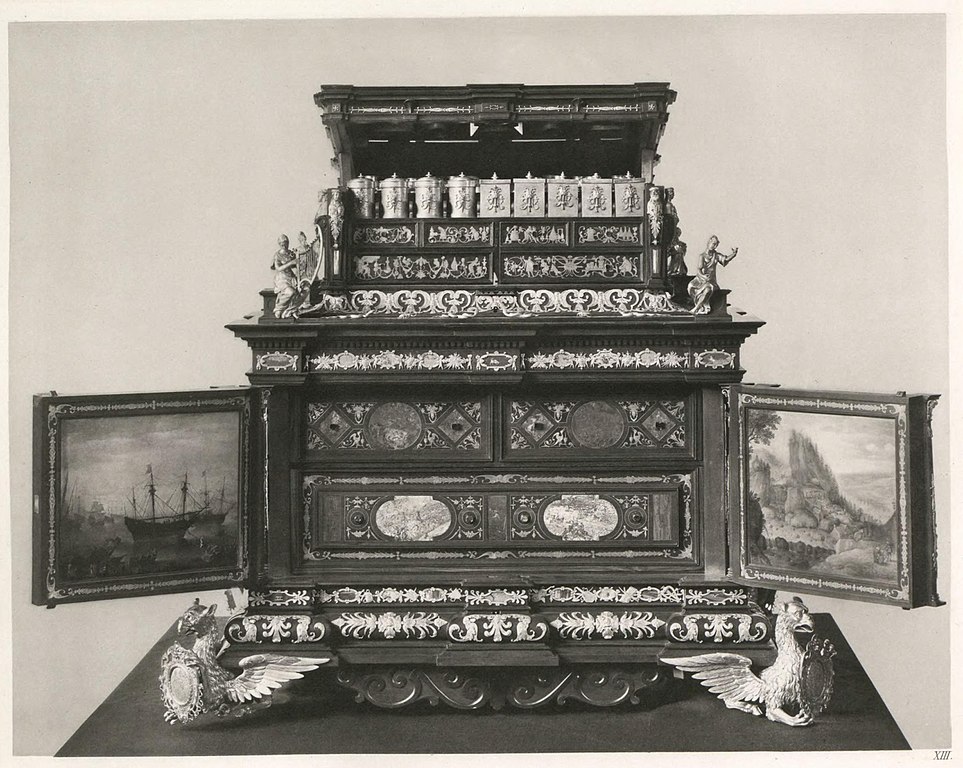 Philipp Hainhofer, Pomeranian Art Cabinet [Der Pommersche Kunstschrank], open view, completed 1617, ebony and silver case destroyed in 1945.
The Department of History of Art & Architecture is pleased to announce that Cali Brannan (Class of '23) is the recipient of the 2022 Howard C. Fenton Undergraduate Research Fellowship, a departmental fellowship that assists students pursuing advanced research projects in the fields of art and architectural history. Cali's winning project will focus on the Pomeranian Art Cabinet of Philipp Hainhofer that contained hundreds of images, tools, instruments and devices. This cabinet, produced in Augsburg, Germany for Duke Philip II of Pomerania, was the largest and most complex of its kind created at the time. The fellowship will support her summer research to Germany, where she will visit the University Museum in Munich to see view a preserved Kunstkabinett, one of only a few with its contents intact; Wolfenbüttel Library to explore Hainhofer's correspondence with Philip II; and, the Kunstgewerbemuseum in Berlin, which holds the remnants of the Pomeranian Art Cabinet's contents (the cabinet itself was destroyed during WWII).
Cali is a double major in Art and History of Art & Architecture and will be working on this project with Professor Mark A. Meadow during the 2022-2023 academic year as she develops it into her Honors Thesis.
June 14, 2022 - 11:05am