Event Date:
Friday, April 28, 2017 -

9:00am

to

5:00pm
Event Date Details:
Keynote Conversation: 1:30 - 3:00 pm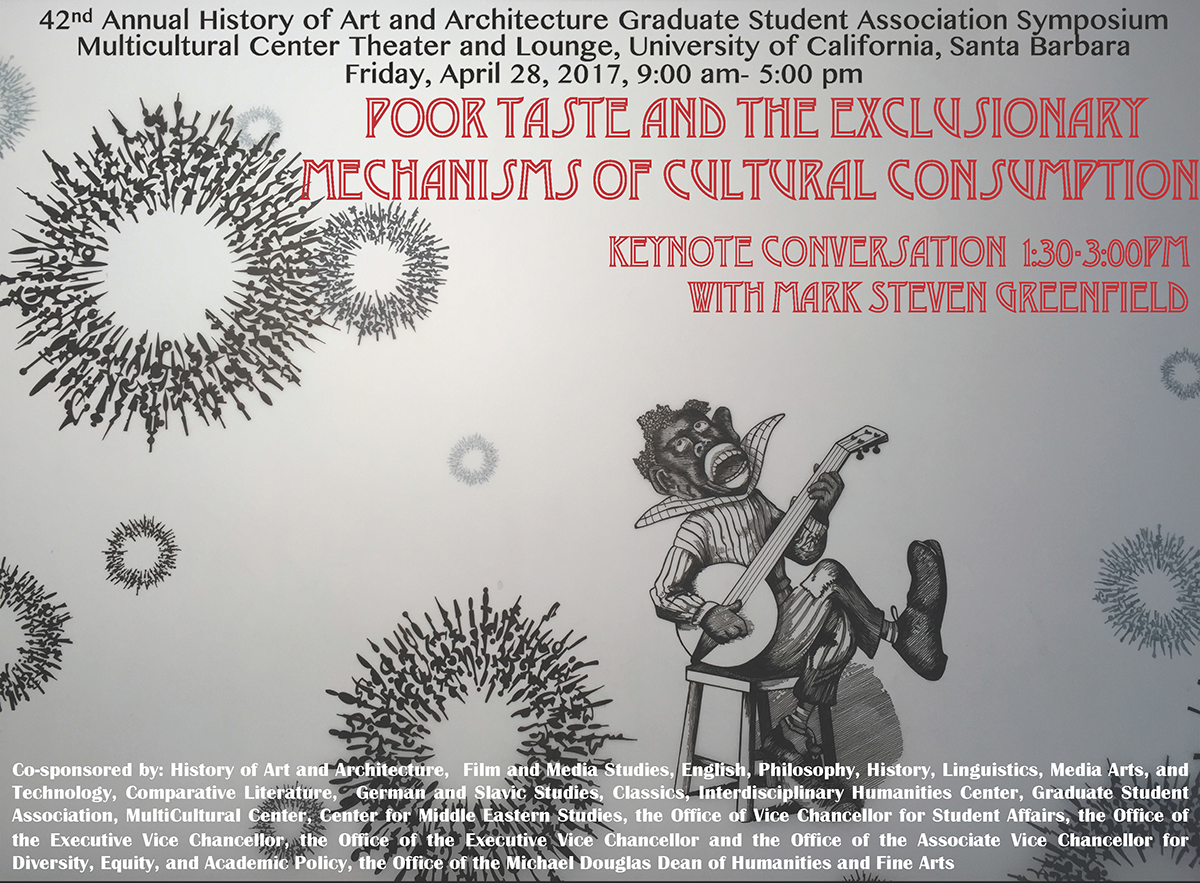 (Click image to download flyer

)
The 42nd Annual History of Art & Architecture Graduate Student Association Symposium, "Poor Taste and the Exclusionary Mechanisms of Cultural Consumption," will take place on Friday, April 28 in UCSB's MultiCultural Center 
(directions to the MCC

). The symposium aims to facilitate an interdisciplinary discussion on the ways in which taste includes and excludes across a diverse set of historical, cultural and political contexts. Topics addressed by graduate student speakers range from religious di?erence in the consumption of soul food in the Black Power movement in 1960s America to the incriminating interior design choices of Sadam Hussein. We are very much looking forward to welcoming graduate student contributors from across campus, the United States, and abroad.
We are happy to announce that the keynote for this year's History of Art & Architecture Graduate Student Association Symposium will be Los Angeles based artist and curator Mark Steven Greenfield
. As the Director of the Watts Towers Arts Center and the Los Angeles Municipal Art Gallery, Green?eld has supported artistic practices that investigate taboo topics and traumas and has also been caught up in public responses to such politically sensitive material. Within his own artistic practice, he has tapped into the deep history of racialized American visual culture, redeploying images of blackface and minstrelsy. As he says: "These images have haunted us for a very, very long time — unless we exorcise the demons that these images have conjured up, we'll never really be free." Unafraid to confront di?cult subject matter, often deemed in poor taste, we are pleased to welcome him to campus to speak on his wide-ranging work and activism. Click here to download the Keynote flyer

.
Cosponsored by the Department of the History of Art & Architecture, Film and Media Studies, English, Philosophy, History, Linguistics, Media Arts, and Technology, Comparative Literature,  German and Slavic Studies, Classics, Interdisciplinary Humanities Center, Graduate Student Association, MultiCultural Center, Center for Middle Eastern Studies, the Office of Vice Chancellor for Student Affairs, the Office of the Executive Vice Chancellor, the Office of the Executive Vice Chancellor and the Office of the Associate Vice Chancellor for Diversity, Equity, and Academic Policy, the Office of the Michael Douglas Dean of Humanities and Fine Arts.
April 4, 2017 - 12:18pm