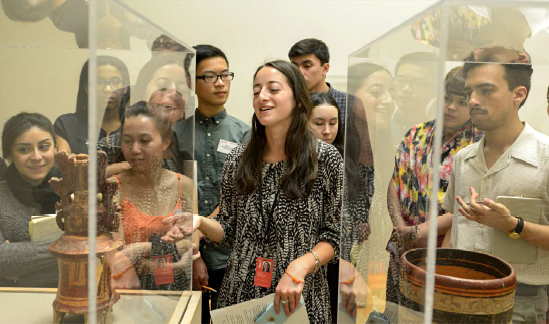 Have you ever wondered ....
What is a CURATOR and what do they do?
How are ART EXHIBITIONS created?
What SKILLS are important for a MUSEUM CAREER?
If so, apply to the Summer Academy, a one-week program starting June 17, 2018, that will provide a rich experience in an art museum with:
Behind-the-scenes tours
Workshops with museum professionals
Curator-led tours of exhibitions and permanent collections
Networking events with art museums professionals
The Andrew W. Mellon Summer Academy and Undergraduate Curatorial Fellowship Program aims to provide specialized training in the curatorial field for students across the United States from historically underrepresented groups. After completing the Summer Academy, participants will submit supplemental materials for consideration for a Fellowship.
For more information and to apply, visit www.lacma.org/mellonfellowships
. Application deadline is March 1, 2018. Please contact fellowships@lacma.org
with additional questions.
November 29, 2017 - 10:31am