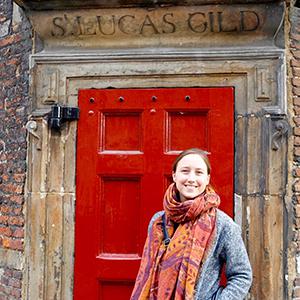 Specialization
:
Area of Concentration: Seventeenth-century Dutch Art
Faculty Advisor: Ann Jensen Adams
Committee Members: Mark A. Meadow, Lyle Massey (Art History, UC Irvine)
Dissertation: "Boundaries of the Body: The Art of Anatomy in the Seventeenth-Century Netherlands"
M.A. Thesis: "The tip of the tongue, the teeth, the lips: the etiquette of smiling in Anthony van Dyck's and Frans Hals portraits" (Queen's University, Kingston, Ontario, completed 2011)
Bio
:
Topics of the body, social and cultural boundaries of conduct, and the role of imagery in the communication and production of knowledge in the early modern period have been areas of consistent investigation in Erin Travers's research. In her Master's thesis, she examined the decorum of displaying one's teeth in seventeenth-century Dutch portraits and genre paintings (Queen's University, Kingston, 2011). These themes also lay behind her comprehensive exams on seventeenth-century Dutch art and Italian Renaissance art, which included areas on sex and gender, the body and materiality, print culture, art and science, and collecting practices (ABD, Fall 2013). This background informs her response to the anatomical prints, drawings, and preparations of Jacob van der Gracht, Johannes van Horne, Frederik Ruysch, Govard Bidloo, and their contemporaries. Investigating the contents of art treatises, anatomical atlases and collections in the seventeenth-century Netherlands, her dissertation argues that anatomists adapted artists' techniques and devices to proclaim the author's authority, mediate the perception of the viewer, and encourage disciplinary boundaries between art and science.
Currently, Erin is in residence at Leiden University as a Kress Institutional Fellow (2016-2018). In past years she has served as the Art History Graduate Student Association (AHGSA) co-Chair, co-organized the 40th Annual Art History Graduate Student Symposium, Truth Claims (Keynote: Peter Galison, Harvard University), and the HAA professional development workshops and work-in-progress series.